The International Day to End Impunity for Crimes against Journalists is marked today, November 2. The SafeJournalists network fights every day to improve the working conditions in journalism, protect journalists and their rights.
All of the partners within our SafeJournalists network have joined the campaign of the International Federation of Journalists (IFJ) for the adoption of the International Convention dedicated to the protection of journalists and media professionals. To mark November 2, IFJ is calling on governments around the world, journalists and media groups to support the adoption of the Convention on the Safety and Independence of Journalists and Other Media Professionals. According to the IFJ, despite many protocols, guidelines and proposals, journalists still face threats every day – and impunity continues to worsen the situation. Nine out of every ten murders of journalists go unpunished.
Every day journalists are attacked, beaten, detained, harassed and threatened for doing their job and yet, there remains no binding international instrument that would force Member States to investigate and respond to attacks against the media. The ongoing threats to journalists' digital safety including cyber-attacks, data stealing, hacking and online harassment threaten the safety of news professionals making it even more urgent to adopt an instrument that would force governments to address impunity.  All of the above, as well as growing frustration with the lack of action and, in too many cases, the lack of will to tackle the crisis of impunity – led the IFJ to launch the campaign for the adoption of an International Convention dedicated to the protection of journalists and media professionals.
In order to raise awareness of the importance of journalistic work and the protection of journalists who are the eyes and ears of democracy, its guardians and the extended hand of citizens, the SafeJournalists Network is launching the campaign #SHEDLIGHT.
And what do we want to shed light on? We want the 160 cases of attacks and threats against journalists that occurred in 2021 in the Western Balkans to receive a judicial epilogue. There were 179 attacks and threats against journalists reported to the competent institutions in 2021 in the Western Balkan region (Serbia, Bosnia and Herzegovina, North Macedonia, Kosovo, Montenegro, Croatia and Albania). Of that number, only 19 cases were resolved before the court as first-instance and final judgments, out of which 12 were convictions.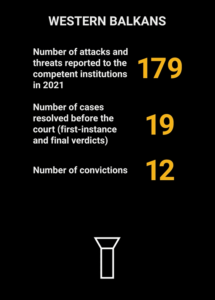 We are concerned about the large number of unresolved cases and the small number of punishments. The Safejournalists network requires the competent authorities to take all measures in order to process the cases more quickly and efficiently and thus show the readiness of the state in the fight against impunity. Only in this way can we send a clear message to potential perpetrators that such behavior is unacceptable.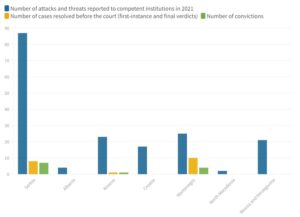 Find the video campaign for each SafeJournalists Network country on the following links:
Serbia
Bosnia and Herzegovina
Kosovo
Montenegro
Albania
🟡Rrjeti @WBjournalists nis fushatën #HIDHDRITE me rastin e Ditës Ndërkombëtare për t'i dhënë fund pandëshkueshmërisë ndaj krimeve kundër gazetarëve! pic.twitter.com/K6Jw7VvmhG

— Safe Journalists Albania (@AlbJournalists) November 2, 2022
North Macedonia
ЗНМ заедно со сите останати членови на мрежата @WBjournalists денеска ја почнуваат кампањата #ДаСеРасветли со цел да се укаже на големиот број на нерешени случаи на напади врз новинарки и новинари #EndImpunity pic.twitter.com/VEtndRkLpm

— ЗНМ (@znmsobranie) November 2, 2022
Croatia
https://www.facebook.com/watch/?v=436125175351730&ref=sharing